Places You Can Sell Your Ideas
If ideas are a dime-a-dozen:
Where can I find lots of people with lots of dimes?
The only question I get asked more than "how do I come up with more ideas?" is "where can I sell my ideas?" -- and these two questions couldn't be further apart.
The answer to the first questions is all about efforts and exercises to produce creative concepts in large quantities, whereas the most successful and profitable answer to the second question is more about access, influence, and creating solutions to very specific problems.
For the first time ever, I've assembled a collection of some favorite resources for showcasing and selling your creativity, and finding problems for you to solve (at a profit!)
The typical Five Buck Brainstorm includes at least 12 ideas, but this one has TWENTY!
Some of these resources may be new to you, some may be familiar, but all hold potential for you to profit from your ability to put creative and innovative ideas into action and into a marketplace of people willing to trade you some dimes (lots and lots of them!) for your best ideas.
Let's get started...
~DON
---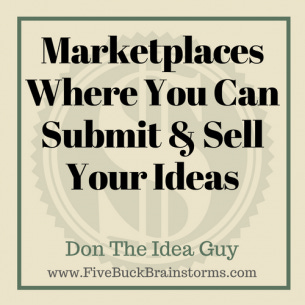 20 Ideas for Places You Can Submit & Sell Your Ideas
1. BumpSale
When someone asks me about selling ideas, I tell them to start simple. Go make a buck off one of your ideas today, and then go out tomorrow and make two dollars. Keep increasing the profit you make by just one dollar everyday for a year, and at the end of the year you will have generated $66,673.00 ($67,039.00 if it's a Leap Year!).Entrepreneur and fellow idea guy, Jason Zook, rode this business model like a pro when he launched iwearyourshirt.com. He wore and socially amplified the promotion of a different brand's t-shirt every single day of the year. The business model charged just one dollar to do this on January 1st, but if a company waited too long to reserve a campaign date they'd likely end up paying $365 on December 31st.
The model proved so popular that Jason created a website which automated the process to allow others to use this same pricing structure. BumpSale.co allows you to set a start price and raise it by a preset amount with every subsequent purchase. Check it out a bumpsale.co or get it and a ton of other stuff as part of Jason's BuyMyFuture project.
2. eBay
People sell some really odd things on eBay. Images of messiah(s) on toast and grilled cheese sandwiches, pop-star hair clippings, celebrity toothbrushes, ad space on a guy's forehead, etc. Why not package up your ideas into "top-secret sealed envelopes" and sell them to the highest bidder?
3. Fiverr.com
One of the easiest places to offer your innovative idea, product, or service and earn a minimum of $5.00 per sale is a website called Fiverr.com. Fiverr allows you to post and/or buy offers of products and services called "Gigs" ranging from $5.00 and up.
4. Braineet.com
Braineet offers creative challenges to the public from brands like Nespresso, Dove, Taco Bell, and Axe offering rewards for the best contributions. Braineet also allows the public and brand consumers to post their own ideas for open review by peers and product manufacturers. The site isn't that old, so challenges aren't posted as frequently as you'd hope -- but you can sign-up to be alerted when new challenges are posted.
5. IdeaHunt.io
This is another site which allows users to contribute and comment on ideas posted by users, but also allows users to post "Idea Hunts" on a specific brand or goal and collect ideas with the promise of rewards. IdeaHunt allows campaign creators to invite specific community members via social media or leave it open to the general public.
6. IdeaConnection.com
This site follows much of the same format as the two previous sites, but it has been around a lot longer and has a more proven track record with idea sellers as well as the idea buyers. This is a great place to contribute to innovation challenges and they tend to be more specific and targeted in their campaign goals (and the challenges seem to lean toward the more technical side). Campaigns for categories like Biotech, Medical, Automotive, Chemical, Engineering, and Energy are common. You should consider ideaconnection.com if your ideas tend to be process driven or you hold rights to patents and intellectual property.
7. Innocentive
Another source for finding online innovation challenges is Innocentive.com. This site allows users to either post a challenge (Seekers) or to participate by contributing ideas (Solvers).Their categories include scientific challenges for engineering and chemistry and agriculture, as well as business and entrepreneurship, and social innovations. Rewards range across the board, and I've seen $20,000 and $30,0000 prizes in some categories.
8. Challenge.gov
Who says the government doesn't pay attention to the little guy? This government program in the United States not only listens to your suggestions, they've paid out over $220 million dollars in prize money to people contributing their solutions to posted government challenges. More than 250,000 people have participated from countries around the world and in every state in the Union. In the five years since its launch, they've posted 260+ innovation challenges. Check the latest problems that need your solution at Challenge.gov.
9. Skild
This company provides the platform for companies interested in running their own innovation challenges and was founded by veterans of the XPRIZE Foundation. Pay special attention to their Customer Stories page for links to clients running challenges, and it may be worth your while to follow their social media feeds and sign-up for their email list for possible early alerts of client challenges. Visit Skild.com for details.
10. Cisco Innovation Grand Challenge
This is an annual competition started in 2014 by Cisco. Prizes include a mix of funding and mentorship to help the award winners make their ideas a reality. Visit http://innovationgrandchallenge.cisco.com for details.
11. Associations and Trade Organizations
I mentioned the strategy of creating solutions to existing problems during my Idea Summit interview with Beck Power. The best places to find problems you can solve for a profit is by becoming involved in industry associations organizations. Read their publications, visit their websites, monitor their social media, and start connecting with them on Linkedin. The American Society of Association Executives is another good place to get started.
12. Amazon/CreateSpace
You know what books and CDs and DVDs and MP3 files and MPEG files are?
Idea Delivery Devices. The largest distributor of IDDs is inarguably Amazon.com, and the easiest mechanism for getting your IDDs into the world's largest marketplace is CreateSpace.com where you can upload your valuable ideas into one of these easy to consume (ans easy to buy!) formats, approve a mock-up, and have it for sale on Amazon.com within a matter of days.
13. GumRoad
GumRoad.com is one of my favorite places to package and sell my ideas. GumRoad is super easy to use and you can get a product posted and for sale within minutes. GumRoad also features a free user level that doesn't cost you a thing unless you sell something. They have an unmatched combination of features which allow you to sell products as diverse as digital file downloads and physical copies of DVDs or apparel individually or all within the same product bundle. You can also create your own affiliate programs and get others to promote and sell your ideas in exchange for a commission.
14. Virtual Summits
Assemble a virtual audience based on industry, interest, or brand and propose a solution or product you have that matches their need or market. Here's a good ebook on the topic to get you started.
15. YouTube Cards
One of the more innovative marketing options on YouTube.com is their Card feature which pops a small expanded promotional box into the corner of a video you're watching. These little promotional blocks display for just a heartbeat before minimizing into a button which can be clicked to expand it again. You can time the appearance of these cards to coincide with the video content, as well as include an image, link, and a small amount of promotional text. What a great way to pitch your solution-for-sale -- within the context of videos being watched by people interested in your topic!
16. Sell the service and solution -- not the idea
Want to sell an idea to a specific company? It's a steeper climb, but you may want to begin by reframing the concept of what you are selling. Don't focus on selling "an idea" -- very few people inside of a business (sometimes no one!) is in charge of buying ideas or ha a budget for buying concepts. What they have a huge budget for is solving problems. The trick is identifying the issues a company is experiencing that they'd find the most value in eliminating. Resources to monitor for this approach are Google Alerts, Linkedin discussion groups, social media comments in relation to the brand and its products, and the company's Press Room page on their website. Position your idea in terms of a solution they need, and pitch the value of paying you to help put it into action.
17. On-Demand Physical Products
The first place I found where I could create cool physical products online and have them manufactured and fulfilled on-demand was CafePress.com. I still remember the first t-shirt design I uploaded there!) Advancements in technology have only added to the list and made some truly innovative items produced on a made-to-order basis. Everything from messenger bags and mugs to socks and super-hero action figures. I even did a Five Buck Brainstorm on this topic.
18. Private Club
While the dream might be to sell one big idea to one big company for one big paycheck, what if you found a dozen companies willing to pay a smaller monthly or annual fee to be a member of a private club where you "give" them all your great ideas? Instead of a single lump sum payoff you may be able to receive ongoing recurring revenue for your ideas. Why deal with concerns over patents and IP rights and simply embrace the idea that big ideas can't actually be protected (only very specific forms and end results the ideas take can be protected) and have as many people as possible working on implementing some variation of your core concept. Members don't even get the rights to your ideas -- only the right to hear them first.
19. Course Websites
Websites like Udemy.com and Teachable.com allow you to post your own content as an online classroom and sell it to students interested in your topic. There's really nothing which would preclude you from selling your ideas in this manner as well. It's especially effective for selling your ideas in a video or slideshow format because of the course-style platform. If you're worried about the corporate terms of services being a potential point of contention, you could create your own course-style site using WordPress themes or a private course platform like Teachery.co.
20. Develop it yourself
Another way to get more money for your idea, is to prove that your idea can earn money. Some ideas and concepts may preclude you from creating a "real" version of it, but if you believe in your idea and its potential, you should be willing to invest some level of your own time, energy, and money to prove your theory. Use a web-based graphics program like Canva.com to mock-up the idea you had for a phone app. Have someone on Fiverr create a realistic drawing of your new backpack design. Get someone with a 3D printer to generate a physical model of the Bluetooth travel mug you have in mind. Use craft supplies to create a prototype version of your board game idea. Use free website builders like Wix.com or Strikingly.com to tease concepts and invite people to sign-up for early launch or pre-order notification. Ask how much they'd pay for the finished product or service. Ask which stores they feel should carry your item. Every name in your database and every piece of feedback adds value to your idea and provides proof of your concept.If you get enough positive feedback you might decide to put the idea into action yourself -- using crowdsourcing websites like Kickstarter.com and Patreon.com to financially support your efforts in order to make your idea a reality.But that's a completely different brainstorm, so this is a good place to stop!
One more thing...
You want to sell more ideas?
Then you need to give more ideas away.
Let's say you had one million dollars and you had to use it to invest in someone's idea. Would you be more likely to invest in an idea from John Doe, someone you've never heard of, had no reputation that preceded them, had no previous victories you could research, and had no one to check with for recommendations and testimonials -- or would you invest in an idea from Steven Spielberg, a guy with a very public track record and list of happy customers who have profited from his past ideas?
All it takes one person to put one of your ideas into action and earn a couple bucks from it for you to be able to justify charging more for your ideas.
One of my successes was an author who got a copy of my book 100-Whats of Ideas (www.100whatsbook.com) and announced publicly that one of the what-if questions it contained sparked an idea for his next book.
In another case I freely gave an idea for an ancillary product to a very high profile sales trainer and public speaker. He loved the idea so much that he paid me to have it produced and would happily refer other speakers to me if they needed fresh ideas for their own business (those referrals are the people you charge for the raw concepts alone.)
Giving ideas away or selling them for a ridiculously low price (say… five bucks?) is one way to begin earning a reputation as a prolific (and profitable) idea generator.